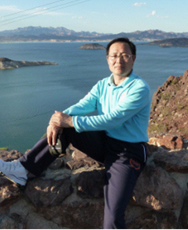 廖道胜
Profile
Master of Arts (Applied Linguistics)
Associate Professor of English
Head of the Department of English, Shaanxi Normal University Supervisor for Master of Education (English)
Education and Training
Feb.1997-Dec.1987
Feb.2004-Dec.2004 Master of Arts (Applied Linguistics) in Edith Cowan University, Australia
Sep. 1982-Jul.1986 Bachelor of Arts (English Language and Literature) in Shaanxi Normal University
Sep.1980-Jul.1981 Diploma majoring in English education at a Sanyuan County Teacher's Training School, in Shaanxi Province
Professional Experiences
May 2002-now Associate professor of English at Shaanxi Normal University
Apr. 1994-Apr. 2001 Lecturer of English at Shaanxi Normal University
Sept. 1987-Mar.1993 Teaching assistant of English at Shaanxi Normal University
Jul.1986-Aug.1987 Interpreter for Foreign Affairs Department at Shaanxi Normal University
Sept.1981-Jul.1982 Teacher of English at Chunhua Middle School, Shaanxi Province
Sept. 1980-Jul. 1981 Student majoring in English education at Sanyuan County Teacher's
Training School
Major and recent research engagements
Apr. 2012-now Began the Comprehensive Reform of Major as a national research program—as the fourth member of the research team of nine professors and associate professors in the School of Foreign Languages, Shaanxi Normal University
Nov. 2011-nowStarted a State-sponsored research program--the National Education scheme in English as the third member of the research team of 12
Nov.2010-nowDirected the Research Program of Educational Fieldwork by Teacher-training Undergraduates May'09-Apr.'11 Worked as a co-researcher of a research program funded by Education Bureau of Shaanxi Province – A Study of English Teaching from the Perspective of University Freshmen's English Adaptability
Selected Publications
Books
Daosheng Liao. A Guide to Disciplinal Education Practice (For English Would-be Teachers).Xi'an:Shaanxi Normal University--A textbook funded by the University as a textbook for undergraduate majoring in English education, 2012.
Daosheng Liao. A Preparatory Handbook for English Majors Preparing for National English Proficiency Tests of Level 4 and Level 8. Xi'an: World Books Publisher—Xi'an Branch Company, 2012.
Daosheng Liao (Subeditor). A Textbook of Translation of Practical Writing (To be completed by May 2013
Daosheng Liao (participator). A Textbook for Teaching Skills Training. Xi'an: Shaanxi Normal University Press, (2011)
Selected articles
A Study of Senior Middle School Students' English Learning Autonomy. . In Cross Language and Cultural Studies, 2010.
A Study of the History of English Education for kindergartens in China. . In Supplement of the Journal of Shaanxi Normal University, 2002.
An Analysis of Cultural Barriers in Chinese Students' English Reading Comprehension.In the Journal of Foreign Languages Teaching, 2001.
A Survey of English Learning Motivation among learners aged 13-16 in English Training Schools. In Supplement of (the Journal of) Foreign Languages Teaching, 2007.
Understanding Stylistic Equivalence of Chinese-English Translation. In the Journal of Shaanxi Education Institute, 2001